We're happy to see you here, Roaster!
Welcome to Coffeeopia — the future of specialty coffee! The goal we have set out to achieve is to become the most valuable specialty coffee platform for both users and roasters. In order for you to get the maximum out of Coffeeopia we've compiled this brief but exhaustive guide on how you can make use of the platform for you. Let's kick off, but first...
What's in it for you?
We try to keep all roaster information and coffee items updated as hard as we can. Nevertheless you can imagine how much updates there are every minute if you think about specialty coffee industry worldwide. This doesn't mean we will not add your recent coffee items, but this does mean we might do that way later than the new item has been launched.
In order for the roasters to be proactive (and responsible!) we've added the opportunity for a roaster representative to manage roaster information, content, coffee items, etc. And on top of that the official roaster page also communicates that the page is officially managed.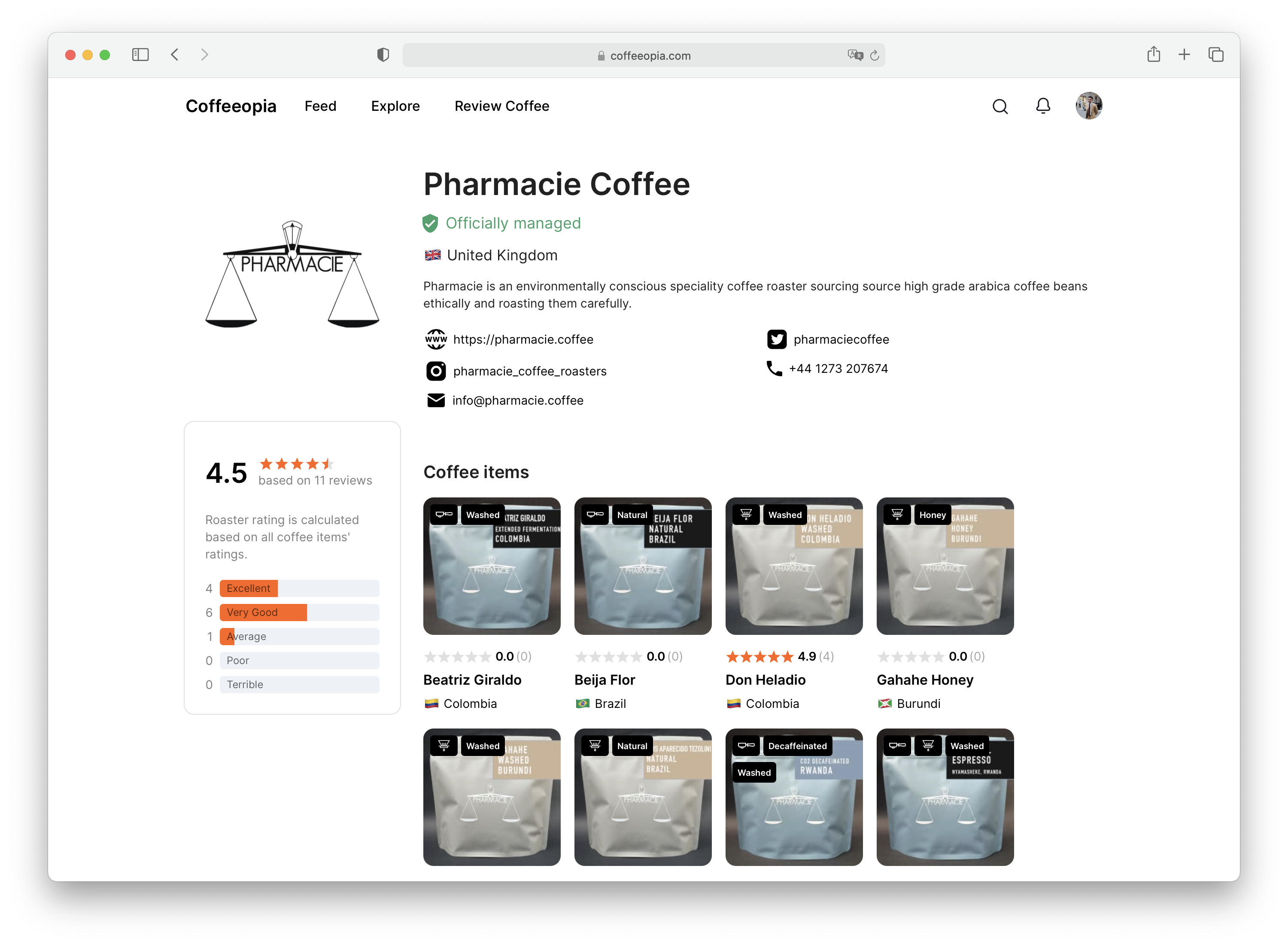 Step 1: Claim an existing roaster or add a new one
We have a lot of roasters and you might already be present on Coffeeopia — all you need to do is search for your roaster by name and check if that's the case. Depending on the outcome here are the 2 options you will go with:
if you found your page, all you need to do is contact us for verification, after this you will be able to manage the information on your pages
if you haven't been able to find your page, you would need to add your first coffee item (see instructions below👇) and then go to the bullet point above 👆
Add a new coffee item
The process is straightforward and super fast (try it yourself). All you need to do is head here and either fill out fields provided.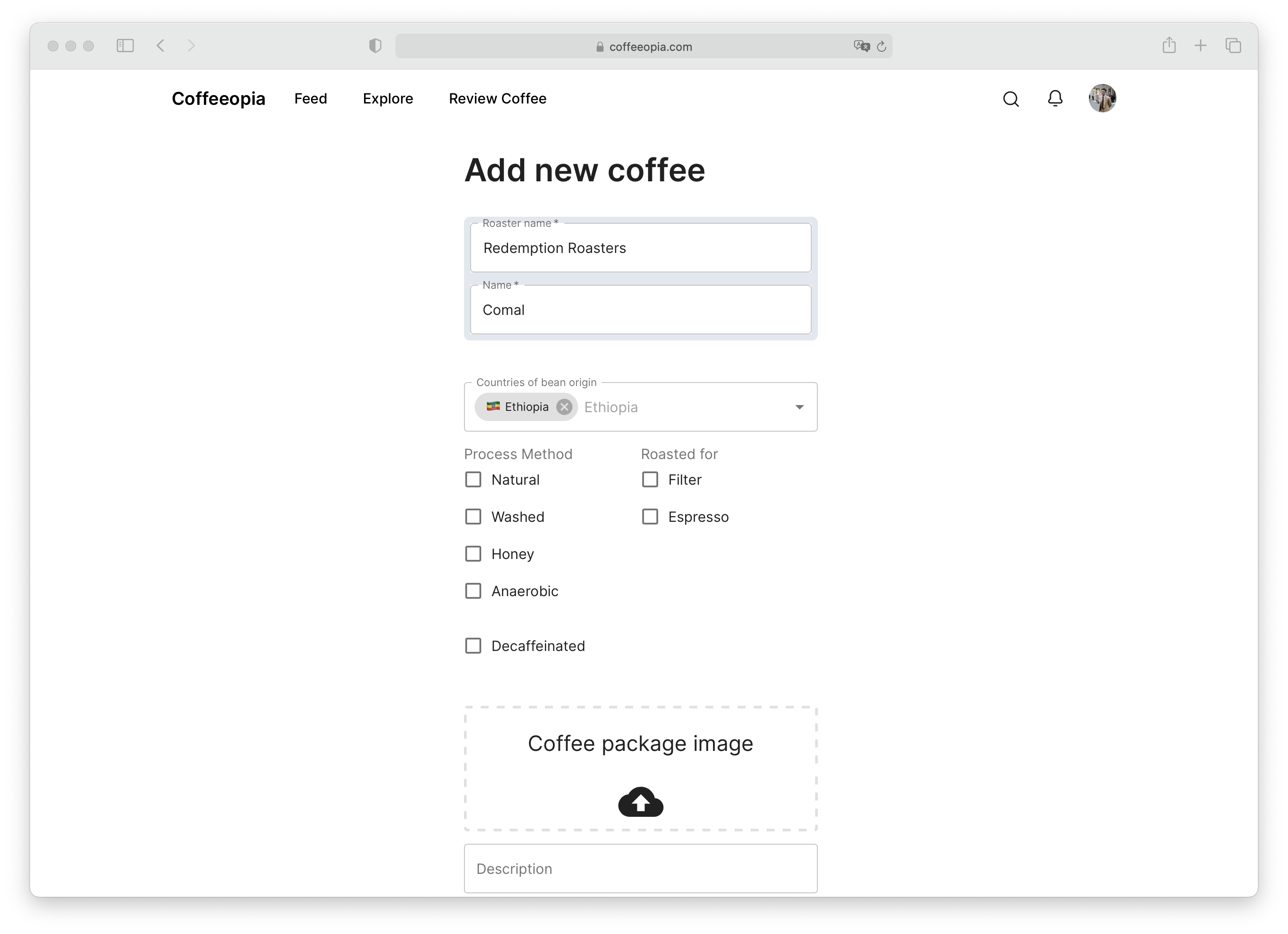 Step 2: Use your super powers
Our managers will grant you access to your roaster page and coffee items and you will receive a confirmation email. Let the fun begin!
Update roaster profile information
You will notice a shiny new 'Edit' button in your roaster profile.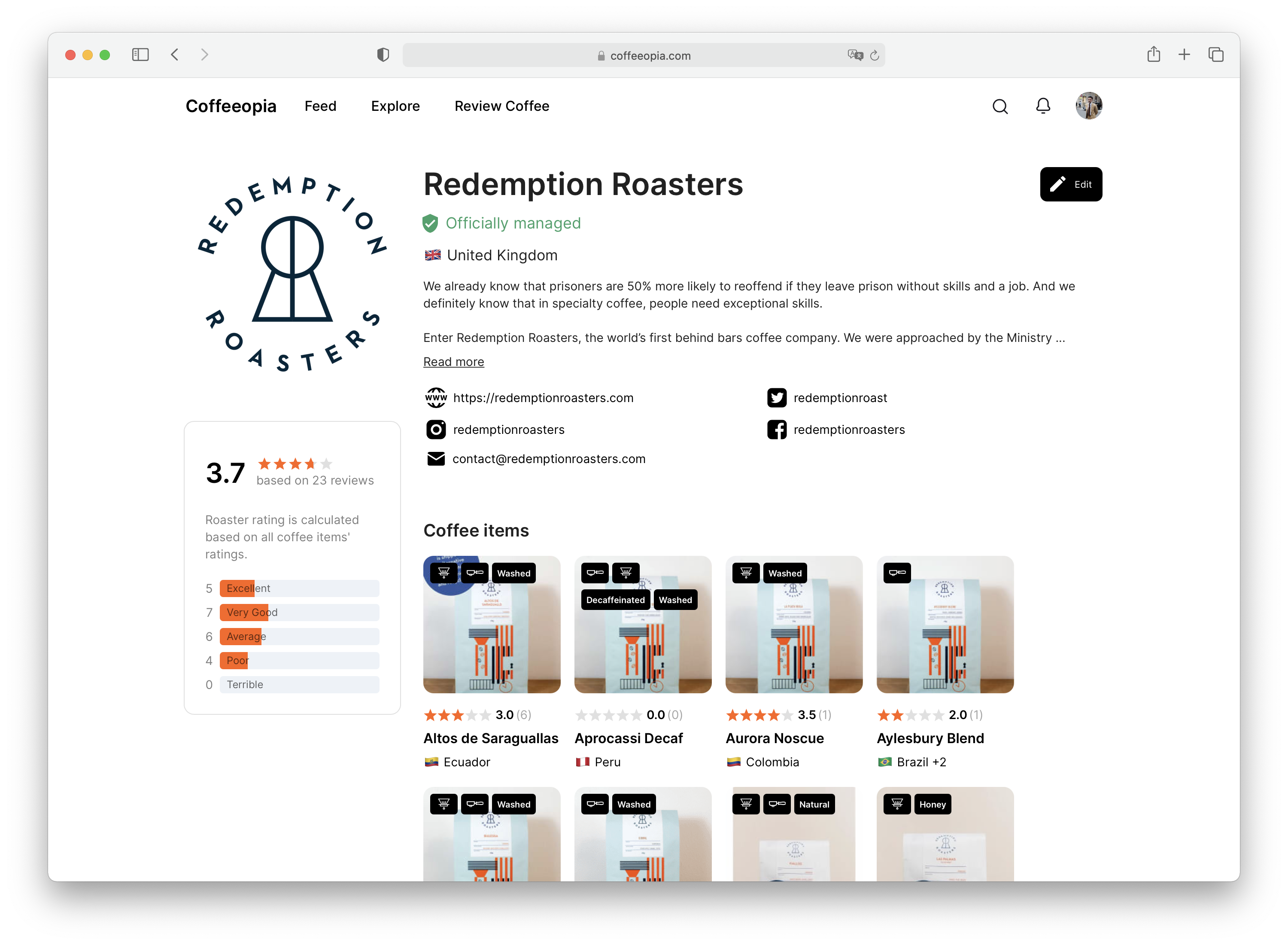 Pressing this button opens up a great deal of opportunities for you! To be hones though, you now have the editing rights for all the information about your roaster displayed on your profile page (except system fields and, of course, user reviews and ratings).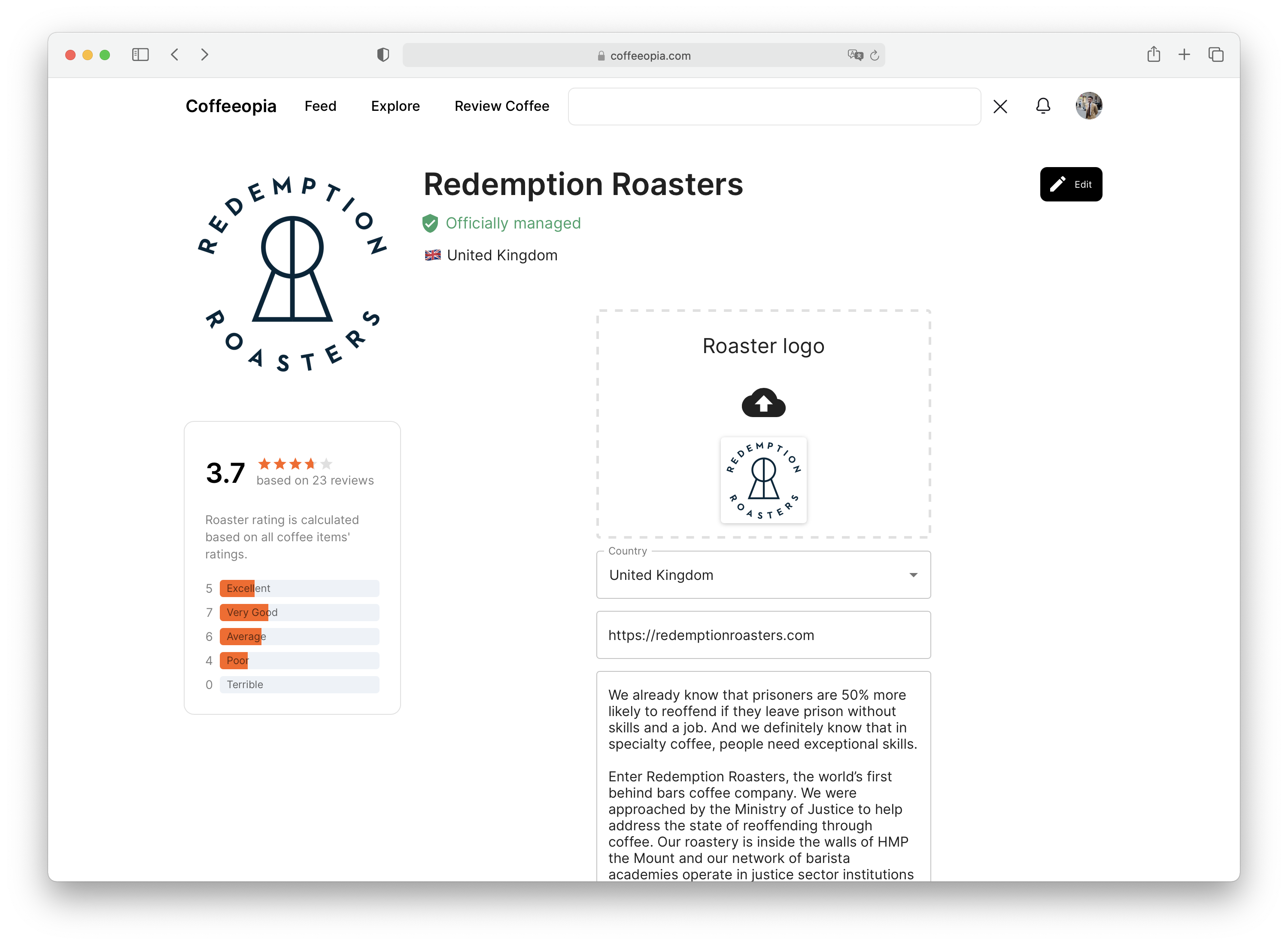 Manage existing coffee items
Don't get too excited — the exact same 'Edit' button will appear in your coffee items.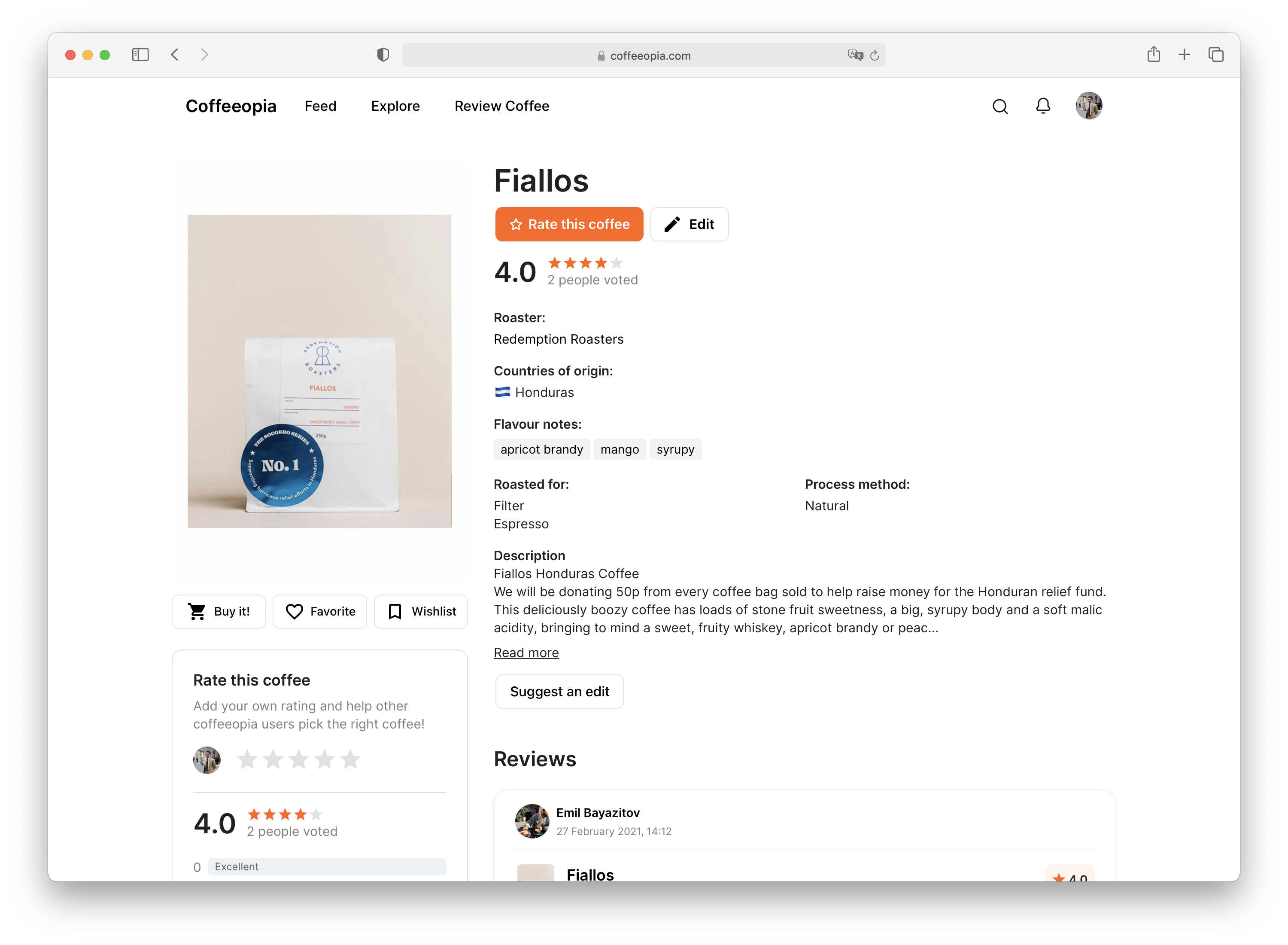 Pressing this button will let you update / remove coffee item information.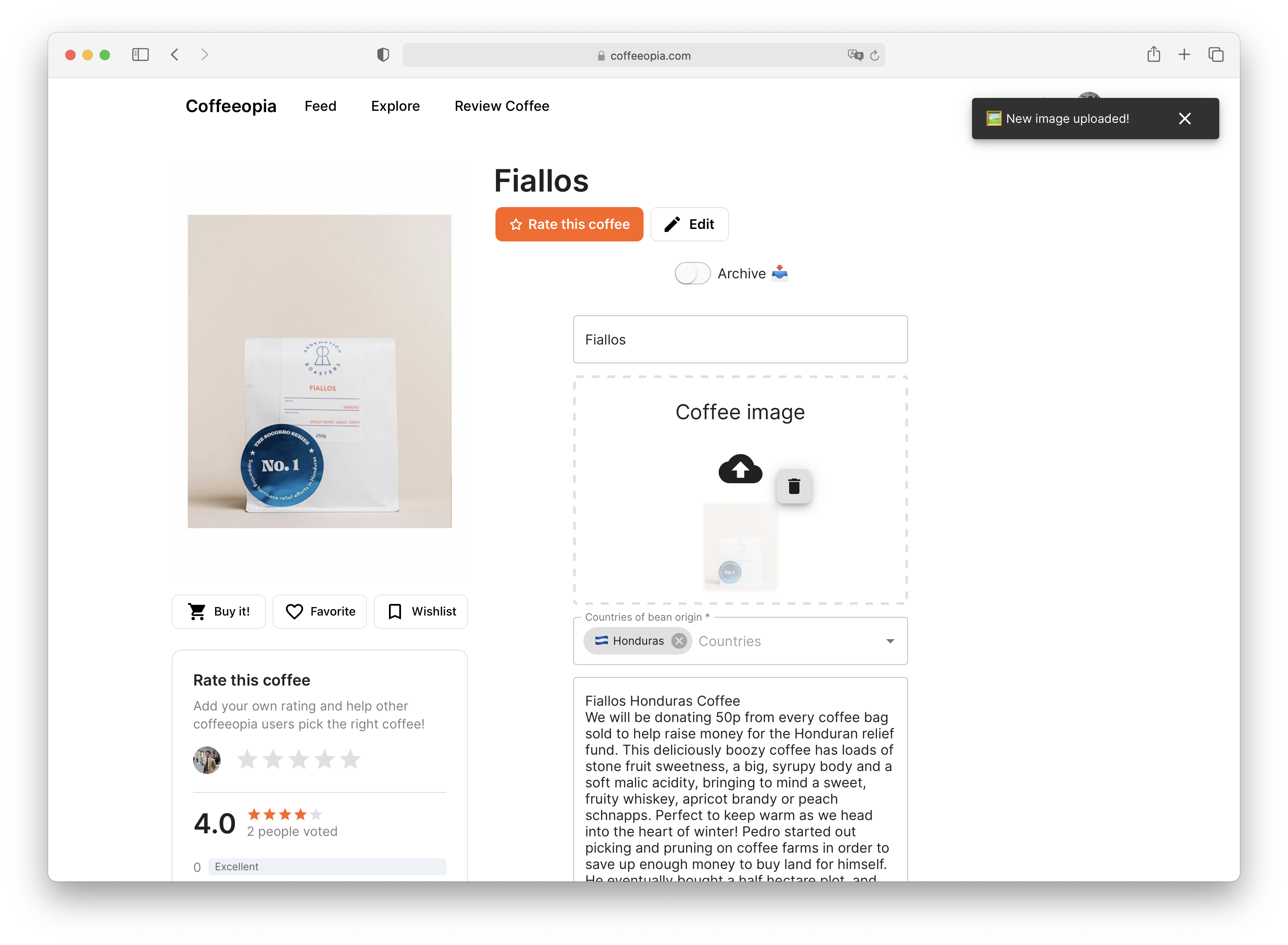 We understand coffee items change very often so we've made an 'Archive' feature inside the coffee item.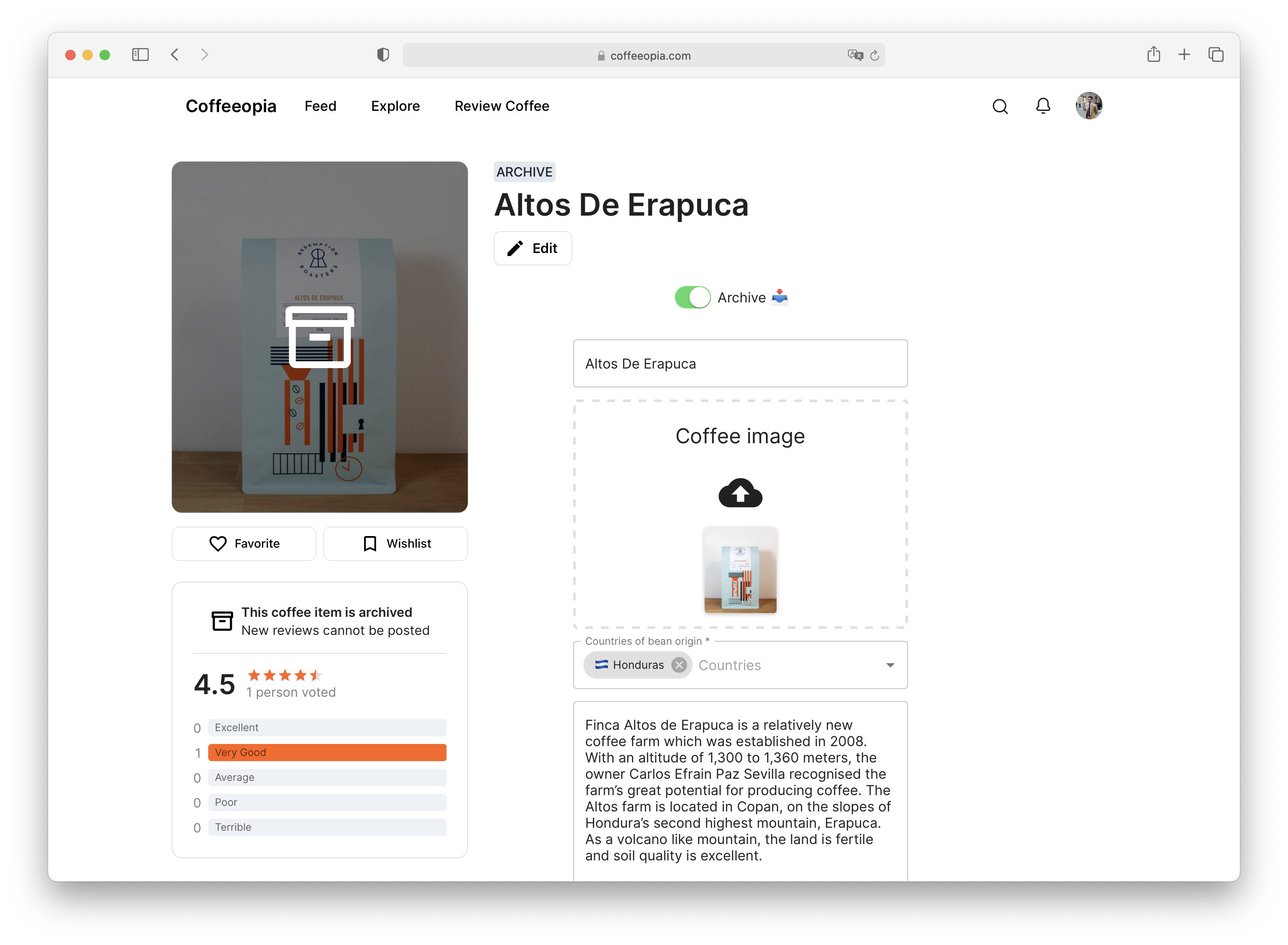 What it does is the following:
marks the coffee item as archived
moves it to the very end of the coffee items list
starts the 'countdown' for reviews and ratings to be provided — users will not be able to review the coffee item after 3 weeks' time of adding it to archive
Add new coffee
As described above adding a coffee is a bliss. Since your roaster is already present on Coffeeopia you will see it in a drop-down list as you start typing.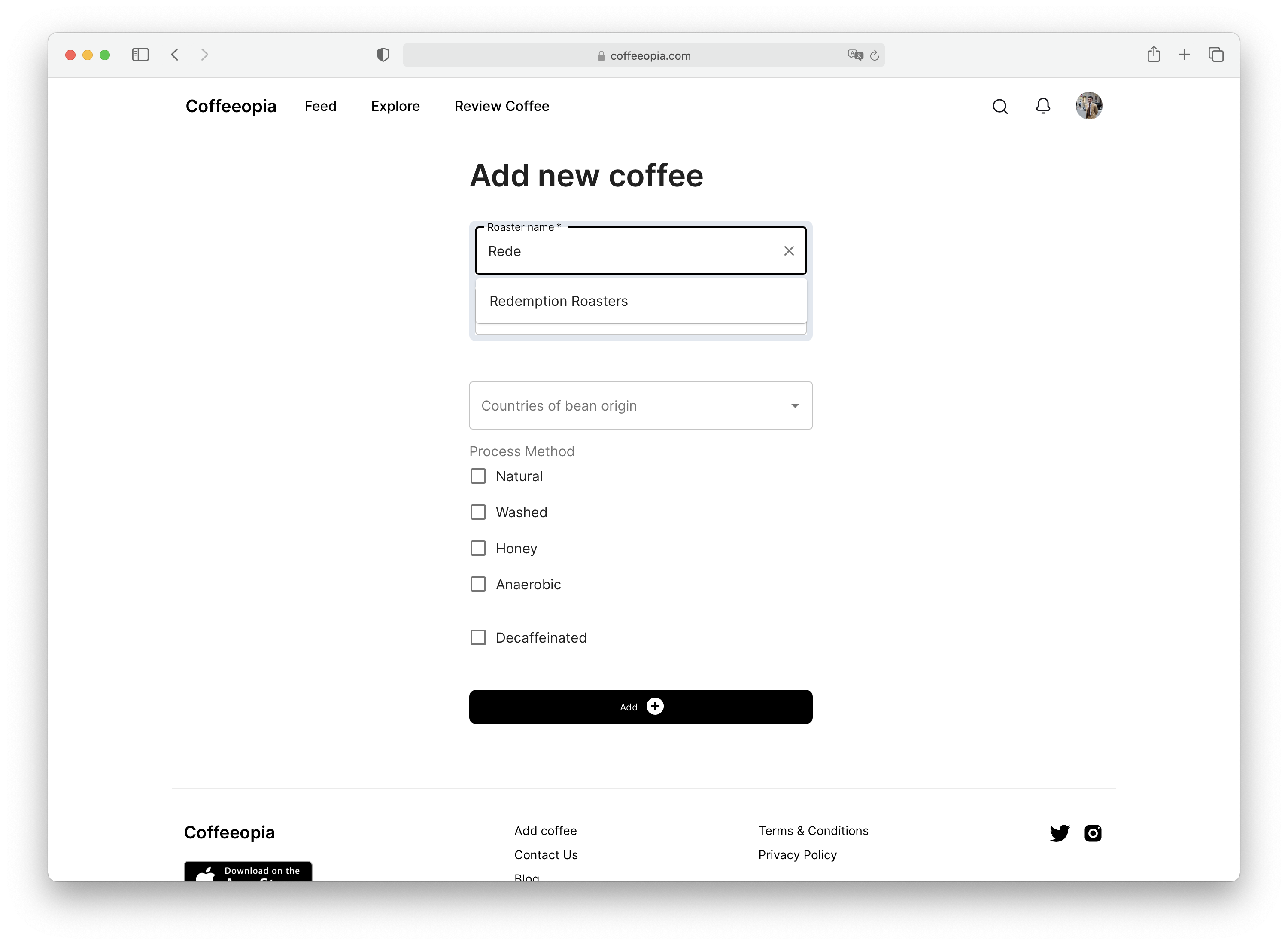 Any coffee added to Coffeeopia will be marked as 'New' and will be shown in the top of the list for a week by default.
Step 3: Get insights and benefits
The goal of Coffeeopia is to bring maximum value with minimum effort to roasters and we're striving to excel at this.
Feedback loop from & to your customers
We are building a product by common people (=not experts) for common people and providing the users a way to bring feedback directly to the roaster. We believe this will increase overall knowledge and quality of specialty coffee worldwide.
Coffee item reviews and rating
The reviews and ratings that users leave on your coffee items shape the taste profile of the item in order to be recommended to other users who might be looking for something similar to what they like. In order for the coffee item to have a rating, a minimum of 2 reviews should be left.
We will introduce even more details into user reviews like date of roast in order for you to be able to monitor the feedback to each of roasts within the same coffee item, etc.
Also the coffee item rating will impact the search results on Coffeeopia.
Roaster rating
The weighted average of the reviews on your coffee items will also shape the rating of your roaster. This is a great feedback mechanism for the roaster and a great opportunity to get more insights and see how it changes over time.
Traffic to your website and social networks
We value the first-hand information sources and showcase all your important online presence channels right on the roaster page.